Home Inspection Experts – Working for You!

Providing Home Inspection Services for 80+ Years
The Carls Group has over 80 years of experience as home inspectors and construction consultants in Montgomery County, MD, Washington DC, Northern VA, Baltimore and Central Maryland.  We proudly takes a positive approach to home inspections, pointing out the potentially problematic construction features that are often overlooked by the purchaser. The Carls Group is licensed, bonded, an ASHI member, and profiled on

We have a history of saving our clients money with our inspection services, and would like to do the same for you – Today!  Call us now to get on our work schedule, and thank you for your business.
OUR INSPECTION SERVICES INCLUDE:
OUR FOCUS IS YOUR HOME INSPECTION CHECKLIST
Click the image below for easier reading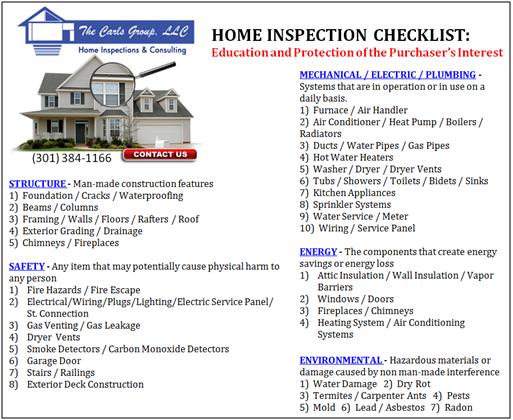 A Home Inspector can be a Good Investment Protector
A good home inspection process is something that people should know about.  A good home inspector can be an important person who can help protect your investment.
Some people consider home inspectors as doomsayers, but they are actually your best friend when investing in a home.  Every homeowner (or potential homeowner) deserves to know the exact condition of their property – and as early as possible.

Generally a home inspection is the visual examination of a house's physical structure, utility systems, and foundation to determine the current condition of a house.  The inspector will most likely need access to parts of the house which you may not have considered, like utility areas (including the electrical panel) and basement/attic crawl spaces.  Prior to visiting, your home inspector will make sure you are aware of the things to consider to prepare for the inspection to make it a pleasant and professional experience.

The standard home inspection examines the condition of the house's internal and external set-up, ranging from the house's plumbing, electrical and heating system; central air conditioning system; roof and attic; visible insulation, as well as the walls, ceilings, floors, windows, doors, and foundation.
Buying a house, whether it be new or pre-owned, can be the biggest and largest single investment someone can ever make.  Ensure that your investment is actually worth its true value by using a home inspector.

Even if selling a house is far from your thoughts, a home inspection can also be a great help in determining problems that could arise with your existing home.  The home inspector can suggest preventive measures that can prevent costly repairs that may likely occur.
The bottom line for the home inspection is primarily to focus on the home's condition, which represents the investment of the client.  Think of it this way, home inspectors are consumer and investment protectors, working with you to learn as much as possible about home-sweet-home!

The Carls Group LLC (301) 384-1166 TheCarlsGroup@gmail.com www.thecarlsgroup.com
2500 Waterside Drive #117
Frederick MD 21701